Michael Brooks of Farm Bureau is the presenter of the Claiborne County Sports Zone Hall of Fame and had this to say about his involvement with honoring the past, "I am excited for the opportunity to be able to support the sports HOF.  I feel like it's a great idea to get something started bringing recognition to our local athletes of the past. I think it's important for our younger, current athletes to be able to see those who came before them and be aware of some of their many outstanding accomplishments and the impacts they have had in our community."
The newest Claiborne County Sports Zone, Claiborne County Sports Hall of Fame Inductee, presented by Michael Brooks, Farm Bureau is Claiborne High's Lindsey Snodgrass.
Lindsey Snodgrass was the first Claiborne High School athlete to win a State Championship. Lindsey won a Tennessee State Championship in the 300-meter hurdles during the 2011season. Lindsey also had second place finishes at the State Championships in the 300-meter hurdles as a junior (2010) and triple jump as a sophomore (2009). Lindsey also had fourth place finishes in the triple jump and 100-meter hurdles in 2011 and long jump in 2009, fifth place finishes in the long and triple jumps in 2010. By TSSAA standards that would make Lindsey an eight-time, all-state performer.
Coach Barry Liles offered this statement about Snodgrass, "Lindsey was a complete athlete. She placed in the top two in the state in a different event each of her three years at the state championships.  The thing that I remember about Lindsey was she was a competitor, she hated to lose."
For her efforts with the Claiborne High School track team, Lindsey Snodgrass is the newest Claiborne County Sports Hall of Fame as presented by Michael Brooks of Farm Bureau, inductee.
Thank you, Michael Brooks of Farm Bureau, for presenting this honor in partnership with the Zone.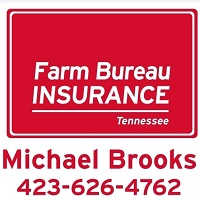 The Zone is powered by: