The Claiborne Middle School Bulldogs hosted Lee County Generals September 15 at R.O. Giles Field.
The Bulldogs kickoff kicked to start the game and the Generals drove to the endzone. After a good two-point conversion, Lee County led 8-0.
Ayden Martin returned to Generals 18 and the Dogs were threatening as the first quarter ended. One play into the second Owen Medlin scored on a keeper but the two-point conversion failed, 8-6 Generals.
Penalties harmed the Dogs on the Generals next drive, but Lee was able to move the ball without help. They scored with 5:40 left in the half and after the conversion was good the score was 16-6.
Lack of ball security cost the Bulldogs on their next drive as they fumbled the ball back to the Generals. Lee scored again with 3:01 left in the opening half. The conversion attempt was good, and the score was moved out to 24-6.
TJ Crigger returned the ensuing kickoff to midfield and Medlin threw a strike to Daniel Loop. Crigger completed the drive with a TD. The conversion was no good and the Bulldogs were down 24-12.
The first half ended 24-12.
The Bulldogs' Martin received the kick to start the second half. Owen Stone started the drive off with a nice run followed by a Loop run. The Dogs later fumbled their chance away and Lee started their first drive near the 40. Three plays later they found the endzone and pushed to score out to 32-12.
Claiborne's next drive ended with a pick-six on a fourth down and long. The score was 40-12.
Medlin and Crigger were the power running combo on the next drive with Medlin scoring with less than a minute remaining in the third. The conversion failed making the score 40-18.
The third quarter ended with Lee facing a fourth down and two.
The Generals converted the first down and continued their drive. One pass play later they scored their 46th point. The conversion was good, and the score was 48-18.
Lee County called a time out on the Bulldogs next drive and the officials took time out as well by playing some pitch and catch. Medlin completed a pass to Jackson Funk and moved the chains. Crigger ran in his second TD of the night with 4:22 left and after a conversion the Dogs were down 48-26.
After the kick and one offensive play later, the Generals had put six more on the board. The conversion failed and Lee led 54-26.
The final score was 54-26. For his efforts on offense, defense and special teams TJ Crigger is the Claiborne Health and Wellness Player of the Game. Congratulations TJ!
Enjoy some game photos courtesy of The Zone – AE: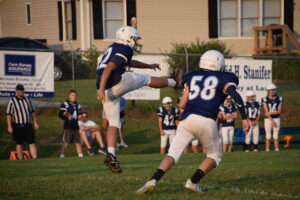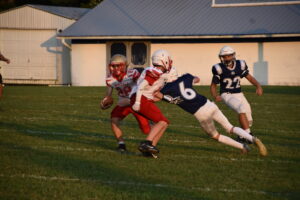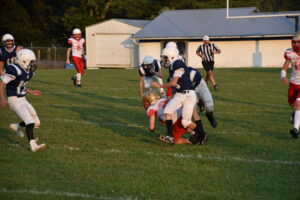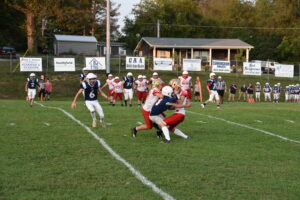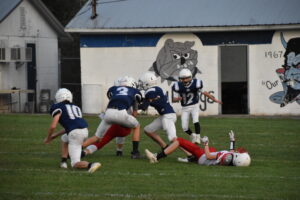 The Zone is powered by: